Review: Ms Marvel Issues 1-6
July 21, 2014, 9:00 am
Filed under:
Exquisite Reviews
| Tags:
Adrian Alphona
,
Captain America
,
Captain Marvel
,
Carol Danvers
,
G. Willow Wilson
,
Ian Herring
,
Jacob Wyatt
,
Joe Caramagna
,
Kamala Khan
,
Marvel
,
Ms. Marvel
,
Thor
Written by G. Willow Wilson
Art by Adrian Alphona and Jacob Wyatt(Issue 6)
Color art by Ian Herring
Lettering by VC's Joe Caramagna
Published by Marvel
£2.20
Let's talk about Kamala Khan. The last couple of weeks have seen some massive ructions in the more change averse (And yes I am being nice describing it that way) sections of fandom. Thor as a woman, Captain America as a black man and Tony Stark moving to San Francisco have all got some people worried about how comics are changing. There's a growing terror of the old metaphors, old tropes falling away and the massive castles of continuity that are built on them crumbling into nothing more than dust in the wind.
Dust.
Wind.
Dude.
What none of these people are looking in the eyes is this; change came to the Marvel universe a while ago, about four different ways. Marvel's three best books right now are She-Hulk, Captain Marvel and Ms.Marvel. Extend that to six and you've got Black Widow, Elektra and Bendis' All-New X-Men, a book with a cast crammed full of kickass female characters.
Change isn't coming. Change is HERE. And things are already better for it.
Don't believe me? Issue 1 of Ms Marvel is on its 6th printing.6th. Here are three other books that have managed that:
Justice League 1
Detective Comics 1
Sex Criminals 1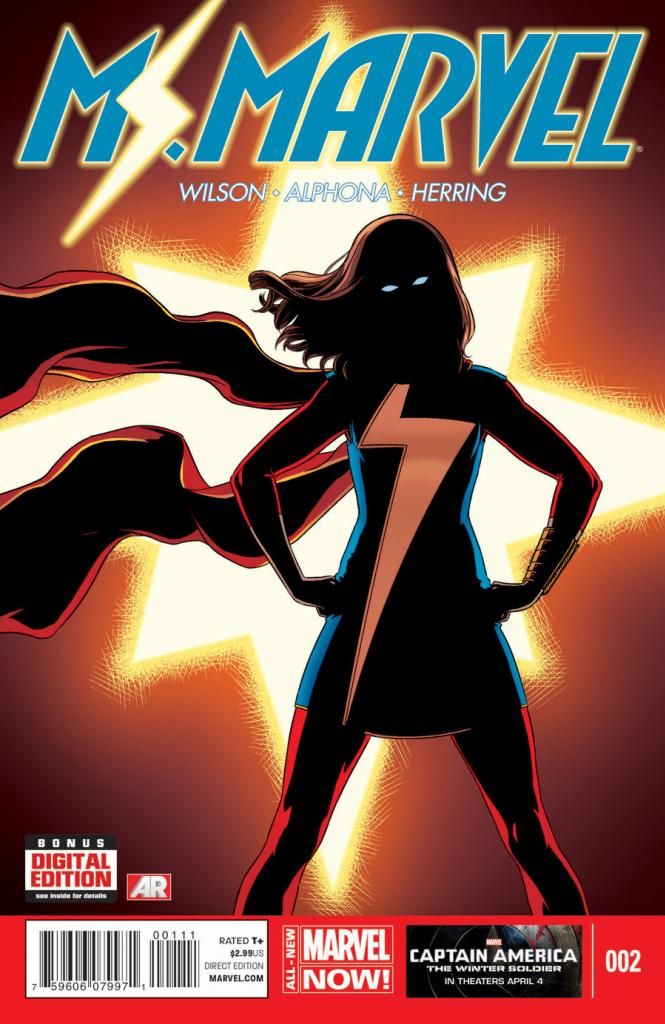 Kamala Khan isn't going anywhere and based on these first issues it's really easy to see why.
First off, there's the fact that G. Willow Wilson writes real people. This is a book crammed full of people you've already met, the sort of small town groups of family and friends that are a near universal constant in the West. Wilson has an instinctive understanding of how and why people cluster together and the fact that the highest stakes moment in here is at the Circle Q convenience store (Bill and Ted fans out there? YES the joke is made) drives that home. This is a book about normal people in normal sized lives dealing with extraordinary circumstances.
Then there's the fact that Wilson doesn't just write people, she writes people who are funny. Kamala is the best example; a cheerfully over articulate, whip smart teenager who's dialogue crackles with pure joy from the moment you hear her first line; 'Delicious, delicious infidel meat.' She's a wiseass in the same way Peter Parker is when he's written well; charming, self-deprecating and clearly deeply in love with the shape of the words she's saying and the effect they have on the people around her.
Kamala's also us. All of us. She's a total geek; a gamer, a fanfic writer, a superhero fan. Kamala has a black belt in geek fu, she thinks and contextualizes the world the same way we do and that instantly makes her one of the most relatable characters in comics right now. She reacts how we would and how we hope we would; panicking in her first fight, getting hurt and getting back up because that's what heroes do. Then, entering the best training montage you'll see in modern comics as she figures out how to game her new powers.
But this isn't just about Kamala. This is about her family and her friends too. Wilson writes the best family scenes I've read in years. Kamala's parents are clearly aware something is up with their daughter, she's aware they're aware and everyone dances around one another in that not-quite-looking-it-in-the-eyes two step that adolescence always becomes. There's a scene in issue 5 with her father that was my favourite moment in the book until I read issue 6. It's a beautiful piece of writing as her dad simultaneously diffuses the tensions between her and her mom, let's Kamala know he loves her and is there for her and still grounds her. The lack of angst isn't just refreshing, it's revolutionary.
Issue 6 though, is the high point so far. The opening conversation between Kamala and Sheikh Abdullah is extraordinary; sweet, pragmatic and something I've almost never seen in fiction before. Kamala and her family are Muslim and when she steps out of line yet again, she's sent to see Sheikh Abdullah to talk to him. Expecting a severe telling off, she instead gets compassion, understanding and humour. He's a sleeves rolled up holy man, someone with no illusions as to how easy anyone's life is. He treats Kamala with absolute respect and gets out of her way even as he advises her. I've had the singular privilege of knowing several Catholic priests like that and seeing that represented so well here was a chance to let out a breath I didn't know I was holding.
Finally, there's the art. Alphona's loping, easy going style is a perfect fit for both Kamala's new powers and the style of the script and Herring's warm, rich colours are amazing throughout. Wyatt's art, in issue 6, is a little tighter but the book actually benefits from that. It's reminiscent of Bandette and has the same light-footed, graceful approach. Not bad going for a book with gigantic cyborg crocodiles in it. The whole thing is rounded out by Caramagna's top class lettering and issue 6 in particular sees that play a vital role in dictating the pace of the action.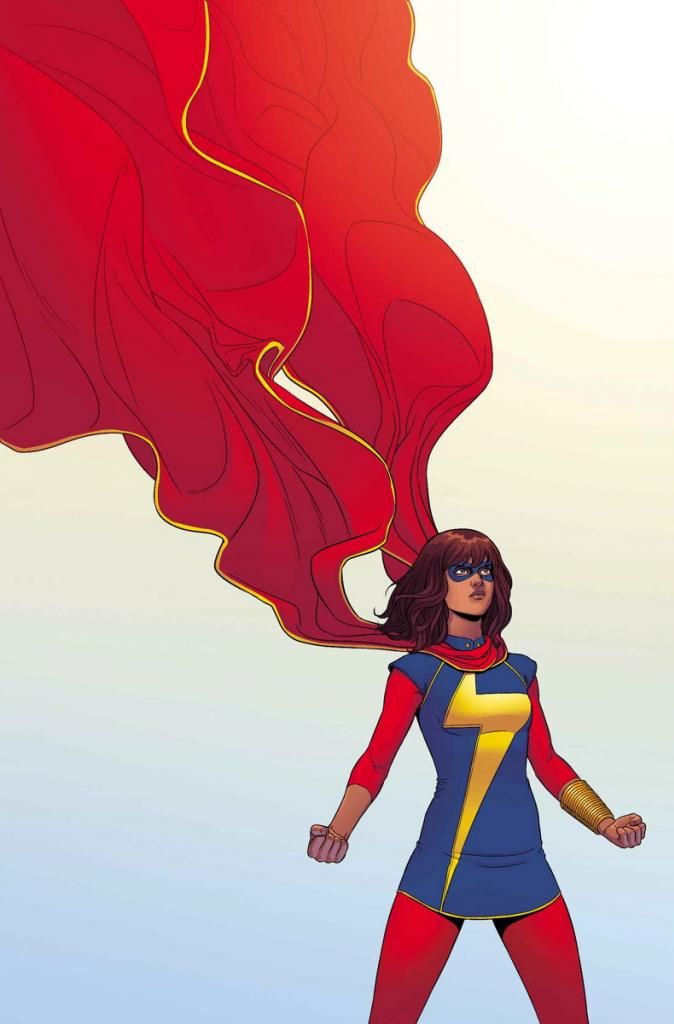 Ms Marvel is a revelation; a new character who works perfectly straight out of the gate. It doesn't just add welcome diversity to the Marvel universe but a brand new, hugely likeable heroine who embodies everything that makes superheroes such an attractive trope. Oh and Wolverine's in issue 6. And her reaction is PRICELESS. This is joyous, clever, sweet-natured comics. Buy them now.