Review: Outcast Issue 1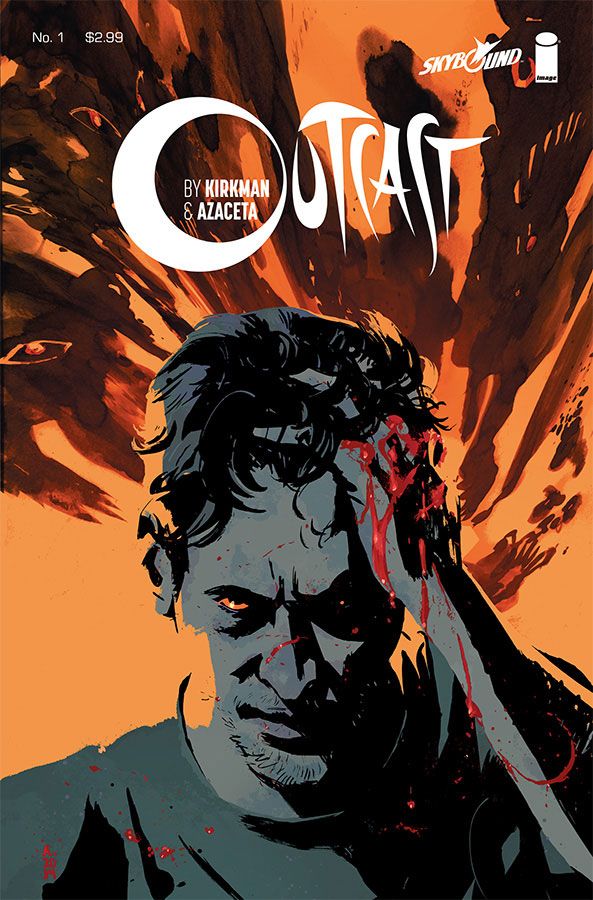 Created by Robert Kirkman
Art by Paul Azaceta
Colours by Elizabeth Breitweiser
Letters by Rus Wooton
Cover by Paul Azaceta and Elizabeth Breitweiser
Published by Image
£2.20
Josh lives alone. As far as other people are concerned it's because of the things he's done. But he knows the truth. He knows what really happened. And now, he's going to be given answers whether he wants them or not,
Robert Kirkman's latest is one of the most atmospheric first issues you'll read this year. Josh is no hero whatsoever, a man so crippled by PTSD and emotional damage he can barely leave the house without his sister forcing the issue. The scenes between Josh and her family are some of the strongest in the book and clench with tension and discomfort. It's really smart writing and when the supernatural element is folded in, it gets even better.
Kirkman cleverly uses nested flashbacks to show us what happened to Josh as a child and how it mirrors a possession case in his old hometown. Reluctantly recruited by the same Priest who exorcised him, Josh is shown the absolute best and worst thing he could be; proof he isn't crazy. This is where the book really kicks into high gear with the complex power dynamic between the two men mirroring their different approaches to faith. Both have seen demonds, but where one had their faith strengthened the other had it destroyed. That's a fractious, chewy nexus to build a book around and it works. Josh wants answers and gets them, the Reverend wants a weapon and gets Josh. Both think they've been validated by what they've experienced but neither will get off that easy.
The art for a book like this needs to both set atmosphere and emphasize subtle character moments and it does both with aplomb. Breitweiser's colour choices are note perfect, the entire town shot through in pale washed out reds and the exorcism scenes in deep blacks and blues. The blood, and there is blood, stands out all the more as a result. Special praise is also due to Anacleta who captures the untidy brutality of untrained physical combat in every frantic, crunching detail. Wooton's lettering really seals the deal on these scenes though, every hit accompanied with the thudding wet sounds of human beings taking damage.
Outcast is a relentlessly bleak, colossally ambitious book that hits every single target it aims at. Deliberately small scale horror that's all the more chilling for that it's the start of a long journey for Kyle and, I suspect, a whole lot of readers. Check it out