Review: Century West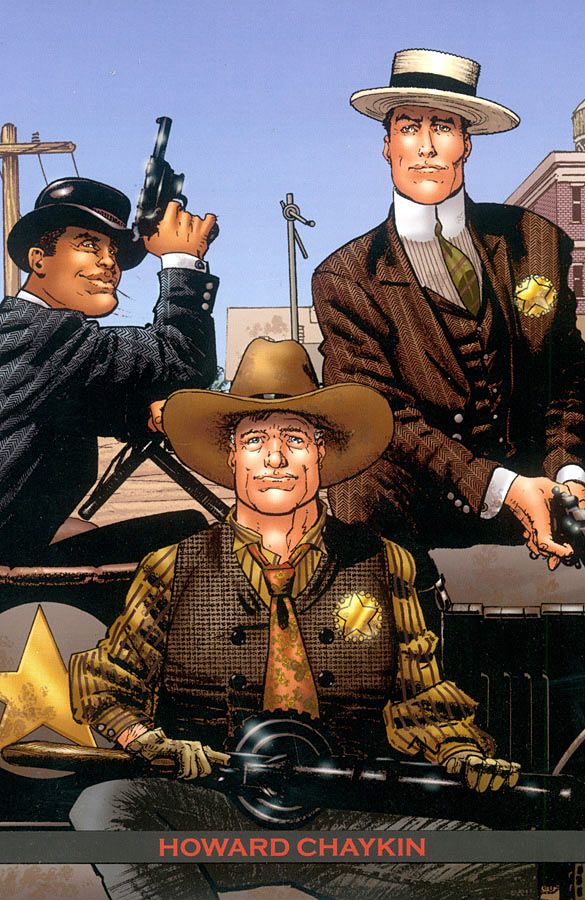 inStory and art by Howard Chaykin
Colours by Michelle Madsen
Letters by Ken Bruzenak
Published by Image
£5.99
Marshal Robert Ford, along with colleagues Yael Tabackin and Barron Pendergast, is the law in the small town of Century, Texas. They keep the peace, and the peace is fairly easy to keep, aside from the odd idiot gunslinger convinced Robert Ford killed Jesse James (Same name, different man). Century is quiet, but it's not going to stay that way. A car chase brings the movies to town and with it the pasts of Tabackin and Pendergast, and the future for the Old West. Everything is going to change and Ford, Tabackin and Pendergast become the still points in a town being swept up by the future.
There are a lot of things you expect with a Howard Chaykin book but 'charming' is not one of them. However, this is lovely, a gentle, very funny story of a town where people go to hide from the world and what happens when the world comes to find them. Using the Marshals gives Chaykin a chance to explore the idealized view of the cowboy too, and what he finds is unusually clever and nuanced. Ford is a man saddled with a bad reputation he didn't earn, and quite prepared to do worse things to keep the peace. There's a joke early on that highlights this, a moment of shocking violence that's both funny and unsettling and tells you everything you need to know about him. Robert Ford gets the job done, and he isn't particularly bothered how.
Pendergast and Tabackin in contrast are a little more urbane. Both are running, both are discriminated against (Pendergast is black, Tabackin is Jewish) and neither care. They're not defined by what they are or how people view them. They're defined by the friendship they and Ford share and the badge they wear. Everything else is irrelevant. Every scene they have is smart, funny writing that says interesting things about one of the masculine ideals of the last couple of centuries without ever resorting to bromance. They're an instantly charming double act, just as effective with violence as Ford and easily the most entertaining element of the book.
As the trains, and the roads and the movies and eventually the planes come to Century, Chaykin's script gradually fills up but never feels stuffed. This is a measured story about three measured men who are on the cusp of a huge change and it's handled with the sort of pacing the story demands. Each chapter works as a standalone and through them we get an idea of the three men, the town and how the future will be. Running through it all are the movie people, themselves fleeing to Century for very different reasons, and the film they're making. The moment towards the end where it's screened is lovely, as Ford and his colleagues see themselves immortalised even as their time begins to draw to a close. It's romantic without being sappy, affecting without being affected.
Madsen and Bruzenak's work is just as vital a part of the book's success  as Chaykin's. Madsen's rich, deep colours drench Century in sunlight whilst flashbacks are in a playful black and white that mirrors the film the book is centred on. Bruzenak's lettering, this being a Chaykin book, is called upon to do 18 impossible things before breakfast and manages them all. Musical notes, dialogue and sound effects all compete for space on the typically information dense pages but thanks to all three, the peace is kept and the story absolutely shines.
There's a lot to enjoy in Century Falls. Even the book's main failing, the flimsy nature of its female characters, is at least contextualised by the times it's set in. That aside, there's a lot to like in Century Falls and its inhabitants. It's gentle, charming story about a time that was anything but and is well worth picking up, especially if you're looking for something a little different.