Review: Captain Marvel Issue 2
April 23, 2014, 8:11 am
Filed under:
Exquisite Reviews
| Tags:
Captain Marvel
,
Carol Danvers
,
David Lopez
,
Drax
,
Gamora
,
Groot
,
Guardians of the Galaxy
,
Joe Caramagna
,
Kelly Sue DeConnick
,
Lee Loughridge
,
Marvel
,
Peter Quill
,
Rocket Raccoon
,
Star Lord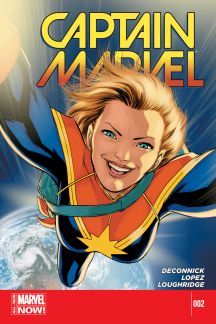 Written by Kelly Sue DeConnick
Art by David Lopez
Color art by Lee Loughridge
Letters by VC's Joe Caramagna
Published by Marvel
£2.85
Having jumped at the chance to be the Avengers' galactic liaison/Marshal, Carol Danvers is out in the universe. She's not alone either…
It's a rare treat to see a book where the main character is so at home. From the opening panel to the final, glorious punchline, this entire issue is crammed full of Captain Marvel, and her writer, clearly having ridiculous amounts of fun. There's a dogfight, a last minute rescue, banter, serious humanitarian work and an AI called Harrison (Because what else would right-minded pilot and superheroine call her ship AI?). Some of it's dangerous, all of it is beautifully rendered by Lopez and Loughridge and not a single solitary page is anything less than great.
What's really smart here is how DeConnick combines Carol's almost tangible relief at doing her job with some very well observed character moments and worldbuilding. Carol's job is essentially to be a one woman UN and as the issue opens she's running a medical transport. It's the definition of the sort of job she loves; a solid journey with a good reason behind it and, of course, it doesn't go according to plan. That, if anything, means Carol gets to have even more fun and the actions cene in the middle of the book, where she and her guest stars really cut loose, is excellent. This is one of those scenes where every member of a creative team hits their stride and DeConnick's script, Lopez's art, Loughridge's vibrant but grounded colour scheme and Caramagna's letters all hit the bullsye. Just like Carol. And her guest stars.
So, let's talk about the superhumanly strong ambulatory tree in the room. The Guardians of the Galaxy show up in this issue and it's that rare kind of guest appearance that makes absolute, perfect sense. They don't undercut Carol, they don't feel like they're shoehorned in, it all works. Even better, their appearance is central to the next stage of the story and cleverly sits this series, and their own, in context with Infinity. Marvel have been doing great work with their space books for a while now and this is no exception. The set up as the issue closes is the sort of thing that would fit in top class Star Trek; a complex political situation, a desperate refugee, a misunderstanding and a lot of good people trying to get the job done despite everyone else's issues with them.
And the best punchline you'll read this year. Seriously.
I'm at the point now where anything with Kelly Sue DeConnick's name on it jumps to the top of my Read pile and this is no exception. Smart, fun, beautifully paced and designed science fiction with a brain, a heart and cat jokes that's just as great a jumping on point for the series as issue 1. Brilliant. Buy it. Read it. Look sideways at your cat.