Review: Gotham Academy Issue 1
October 22, 2014, 12:00 pm
Filed under:
Exquisite Reviews
| Tags:
batman
,
Becky Cloonan
,
Brenden Fletcher
,
Bruce Wayne
,
Dave McCaig
,
DC
,
Geyser
,
Gotham Academy
,
Gotham City
,
Karl Kerschl
,
Steve Wands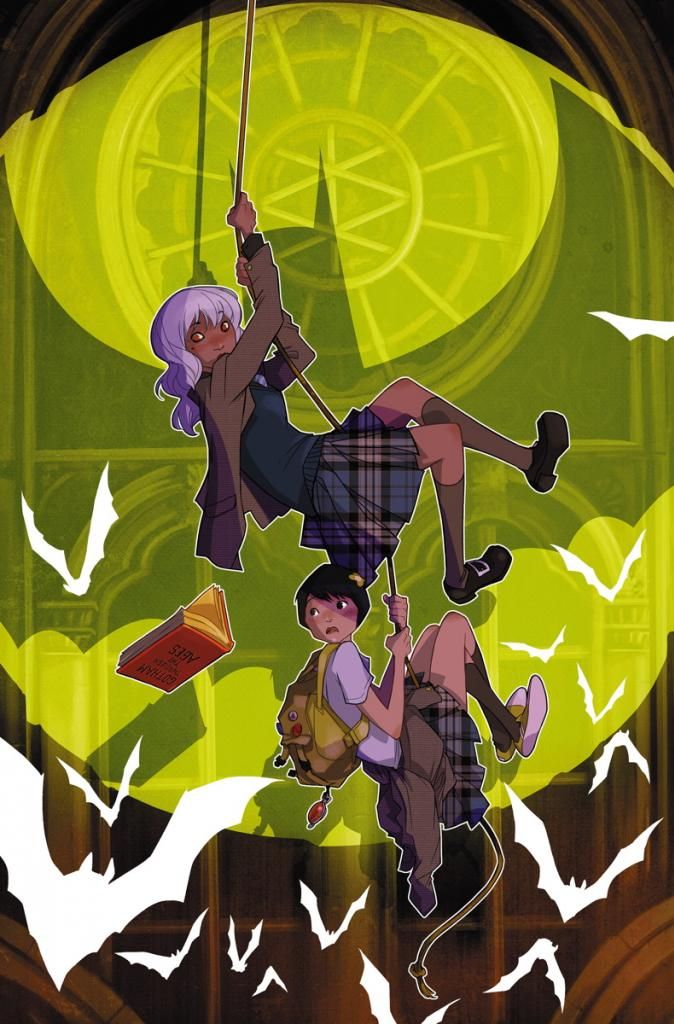 Written by Becky CLoonan and Brenden Fletcher
Art by Karl Kerschl
Colours by Geyser with Dave McCaig
Letters by Steve Wands
Cover by Karl Kerschl
Published by DC
£2.20
Olive Silverlock is about to enter her second year at Gotham Academy. Olive has just been given a first year student to look after 'Maps' Mizoguchi is all enthusiasm and no filter. Maps is also the younger sister of Olive's sort-of former ex boyfriend. The year is not off to the best start…
Cloonan and Fletcher do two really smart things here. The first is lay out the Academy in a manner that will be familiar to anyone who's ever read a school story; a stern headmaster, a mean kid, a trouble-maker and so on. That gives it a very different feel to the usual Bat books but also establishes the book in a manner that will feel very familiar to its audience. This is new ground for Gotham, and feels like it, but at the same time it's reassuringly familiar.
The second really smart thing they do is massively compress Olive's learning curve. She's clearly traumatized, over and above the horrors of adolescence, and spends the first half of the issue being deeply unpleasant to her friends as a result. In other media, this would be her arc for the entire series as she gradually gets over her issues. Here she's figured out what she's doing and corrected it by the middle of the issue. It's a smart move by a smart character and sets Olive and Map up as the central double act exploring this very odd, possibly very dangerous school.
Kerschl shows us around the school and does an astounding job. One double page spread features highlighted panels showing us different classes whilst an action beat involving the bell tower uses extreme perspective to huge effect. The panel layouts are never standard, always innovative and always a pleasure to read. Geyser and McCaig's deep colour scheme also does wonders or the book, especially the sunset the bell tower sequence happens against. Finally, Wands' lettering is exuberant and kinetic, giving you not just character but tone as well.
There is no other Batbook like this. It's exuberant, beautiful to look at and packed with action, character and fun. Ring the bell, school's in