Review: Revolutionary War: Omega
April 16, 2014, 9:00 am
Filed under:
Exquisite Reviews
| Tags:
Alan Cowsill
,
Andy Lanning
,
Clayton Cowles
,
Colonel Liger
,
Dark Angel
,
Death's Head
,
Death's Head II
,
Killpower
,
Knights of Pendragon
,
Marvel
,
Mephisto
,
Motormouth
,
Mys-Tech
,
Rachelle Rosenberg
,
Rich Elson
,
Supersoldiers
,
Tuck
,
Warheads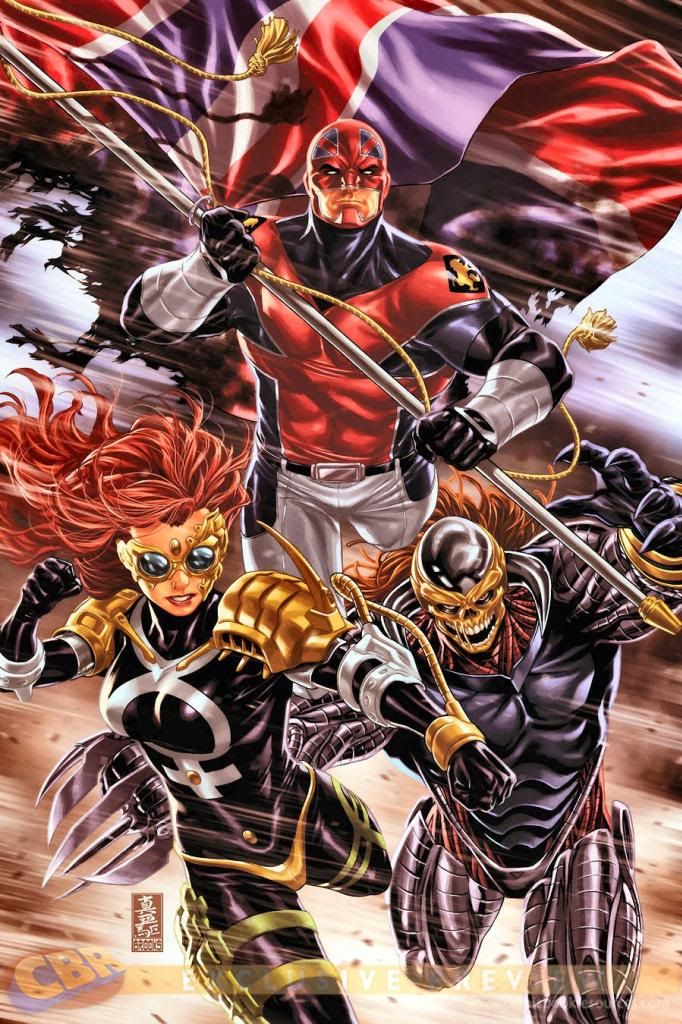 Written by Andy Lanning & Alan Cowsill
Art by Rich Elson
Colour art by Rachelle Rosenberg
Lettering & Production by VC's Clayton Cowles
Published by Marvel
Killpower has come home, and he's brought Hell with him. Now, the tattered remnants of Britain's heroes must fight the devil's army, led by one of their own.
The wrap up for stories like this is always hard to land well and this is no exception. It's, in essence, an enormous fight. The sort of enormous fight that has huge, Earth-shaking consequences and yet you know won't really be reflected anywhere else. That's a tough mark to hit and still tell a satisfying story but by and large this issue does it.
The actual fight itself is the big thing that works. The resolution to Mys-Tech's kidnapping of various people is nicely played out and the solution is exactly the sort of grim, pragmatic heroism that suits these characters to a tee. This was never going to be a series everyone got out of alive and the death here, whilst surprising, is really inevitable. Unfortunately, the need to get the wider Marvel universe characters in place means what should be an emotional high spot is done in two pages. It's a shame, especially given how emotionally grounded most of the one shots have been. The Guardians of the Galaxy joke we get as a result is nice, and logical, but not necessary.
That moment aside there's a lot to enjoy here. Elson's art is great, especially the opening pages. He uses Killpower's drawings of his time in Hell to not only counterpoint the horrific events with the child at the centre of them, but also to give the story an edge that's both absurd and personal. Likewise, the closing wrap up montage works surprisingly well and sends some of these characters out into the wider Marvel universe and off to some very fun places. Rosenberg's colour work is excellent too, especially the sickly green of the Mys-Tech crystal and how she uses shadows and light, especially, once again, in those closing pages. Cowles also turns in great work and the design sense for the entire series has been uniformly strong and often brilliant.
Revolutionary War has been a curious series about a curious group of characters. The Dark Angel, Knights of Pendragon, Motormouth and Warheads specials have been flat out brilliant, combining a social commentary element with the characters and showing just how well they stand up to modern day sensibilities. The rest has been uneven but never less than interesting. Dark Angel has already showed up in Iron Man and here's hoping the others will follow. These characters have survived the '90s. They deserve our respect, as well as another shot at the limelight.