Review: Age of Ultron Issue 8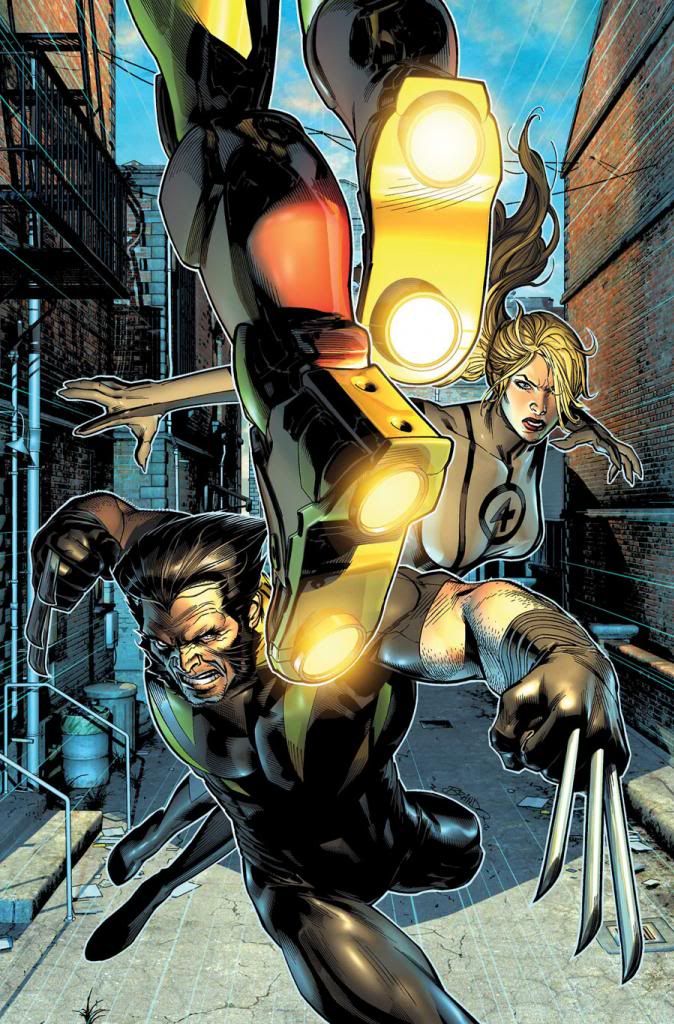 Issue 8
Written by Brian Michael Bendis
Art by Brandon Peterson
Colours by Paul Mounts
Letters by VC's Cory Petit
Cover by Brandon Peterson
£2.85 (Or £1.99 with SuperCard Go!)
There are, at this point, three books happening in the same space here. The first Age of Ultron is the slightly slow paced but still very interesting, gutsy story about the end of the Marvel universe and Ultron's almost casual domination of it. The second is a character-driven time travel story which sees Sue Richards and Wolverine both in completely different places to where they normally are and forced to grow and act as a result. The first one of those books is interesting, the second is great.
The problem is the third book. As of last issue, Age of Ultron became what it had to be; an alternate universe story. That's not just understandable, its compulsory given the apocalyptic change Wolverine and Sue made to the timeline. That's not the problem. What is, unfortunately, is the same problem the book has had from the start; pacing.
Three things happen in this issue; a mutilated almost full-cyborg Tony Stark interrogates Sue and Wolverine, the Defenders arrive and their version of Wolverine, to say nothing of The Thing, react to Sue and (our)Wolverine's presence the only way they know how; directly. The ensuing fight is further interrupted by the arrival of Morgana Le Fey and a huge army of Doom/Loki hybrids (Loombots perhaps?) and another apocalyptic battle.
That's issue eight. Of Ten.
There's a growing sense that this is a book which isn't going to go quietly, especially as at least another full issue looks to be set in this alternate present. Which technically shouldn't be a bad thing but we waited so long for this story to get going that it can't help but feel frustrating. The awful thing Wolverine and Sue did has to have consequences and those consequences have to be major but the stop start pacing of the book outstayed its welcome an act and a half ago. There needs to be some sort of hint of what's coming next, soon because the more distance there is between readers and the embattled, desperate survivors in the Savage Land, the less impact the book has.
That isn't to say there's nothing to enjoy here. Bendis continues to write Sue Richards as the calm, smart, tough woman so few other writers ever do and the hints we get of the new status quo are nicely handled. Best of all there are some great character moments here, especially the alternate universe Ben Grimm's frantic 'WHERE IS SHE?!' as he realizes that the Sue he lost is still, somehow alive. Only Stark disappoints, the quiet rage Bendis gives him offset by a bizarre design choice which sees him picking up the gurning duties from Cap a couple of issues ago.
This isn't a bad book by any stretch, it's just an immensely frustrating one. The odd pacing has never seemed to settle down and with two issues to go there's no indication of how it's going to end. Still absolutely worthy of your attention, if not your patience, Age of Ultron remains one of the most weirdly obtuse stories Marvel have put out in years. Enjoyable, but you may be confused as to quite why.
Alasdair Stuart