Review: Prometheus-Fire and Stone Issue 1
September 19, 2014, 10:00 am
Filed under:
Exquisite Reviews
| Tags:
Alien
,
Blambot
,
Dark Horse
,
David
,
David Palumbo
,
Engineer
,
Julian Ferreryra
,
LV 223
,
Nate Piekos
,
Paul Tobin
,
Predator
,
Prometheus
,
Weyland
,
Xenomorph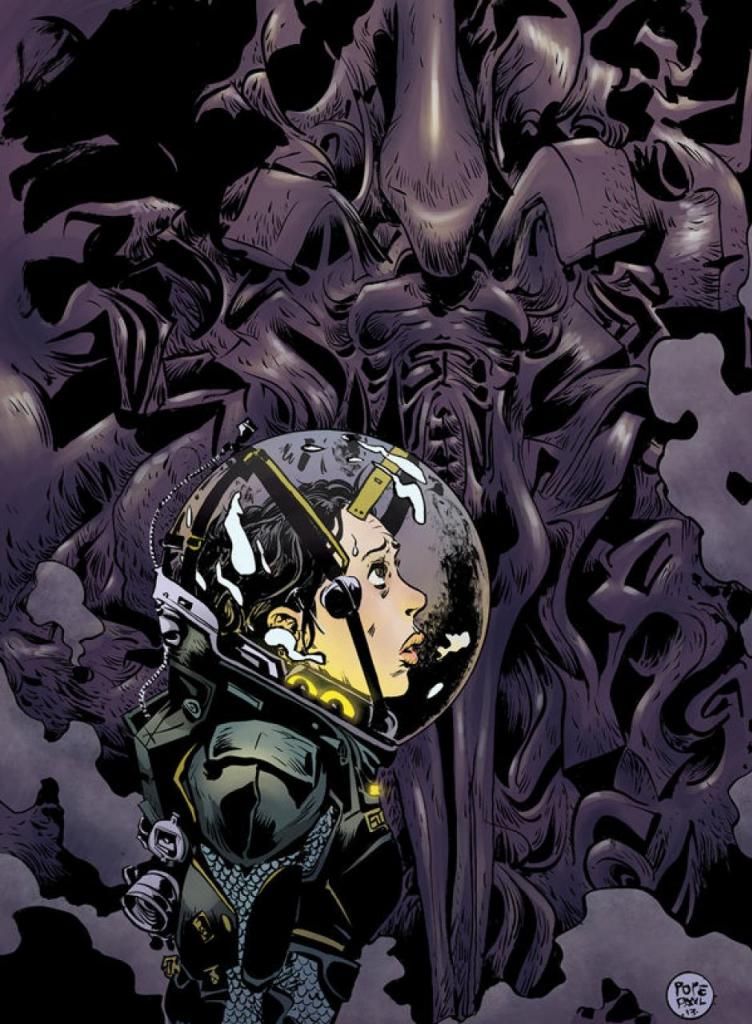 Written by Paul Tobin
Art by Julian Ferreyra
Letters by Nate Piekos of Blambot!
Cover by David Palumbo
Published by Dark Horse
£2.85 or £1.85 with your Weyland Yuytani issue SuperCard Go!
Hated Prometheus? Read the first paragraph below. Loved it? Read the second.
Everything that was wrong with Prometheus is fixed inside three pages of this blistering return to the Aliens universe from Dark Horse. The story follows a 2219 mission to salvage the downed survey vessel from Prometheus. As far as most of the crew are concerned, it's just a salvage op. As far as the Captain's concerned, it's a mission to find what happened to Weyland and the truth behind the history of humanity…
Everything Prometheus did right is used as a foundation for this first part of a Prometheus/Aliens/Predator three way dance, Tobin's script neatly builds on both the original mission and it's secret as a three-ship group is dispatched to LV 223 to salvage the remains of the previous expedition. Only the Captain knows the truth about what Weyland did there, and that's why there's an armed patrol ship as part of the fleet…
Tobin has an instinctive understanding not just of the universe he's playing in but our expectations of it. He sets the team up as fun, distinctive people and shows us the seeds of their destruction even as they take pains to ensure the mission will be safe. Everyone has secrets, no one trusts anyone else and the entire mission is already working to two agendas even before they make planetfall. When they do? Tobin does an excellent job of showing us how the world's changed, casting a little doubt on whether this is the right world at all and wrapping up with a killer final panel.
Ferreyra's art is perfect for this style of book. The characters are all distinctive and expressive and the technology is exactly the right level of Ron Cobb-esque chunky precision and functionality. What really makes the book fly though is how expansive the panels are. Splashes are uses sparingly and effectively and the tension is neatly ratcheted up by some truly extraordinary colour work. This feels like an alien world and it's a pleasure, albeit a terrifying, blood-soaked one, to spend time here,
Peikos' letters combine with the book's unusual style to cleverly guide your eye around the large panels in particular. Lettering is an often overlooked, but always vital, part of comics and Piekos' reputation as one of the best in the business is only confirmed here. It's effortless, smart work in a book that's intensely smart and tremendously good, nasty SF fun.
Whether you loved or hated Prometheus doesn't matter, because this take the elements of the movie that truly worked and makes something better from them. I'm fascinated to see not only how this series pans out but the others that are connected to it too. Excellent work from some of the best creators in the field. Go get it.