Review: Pretty Deadly Issue 4
March 7, 2014, 9:00 am
Filed under:
Exquisite Reviews
| Tags:
Clayton Cowles
,
Coyote
,
Death
,
Emma Rios
,
Fox
,
Ginny
,
Image
,
Jordie Bellaire
,
Kelly Sue DeConnick
,
Sissy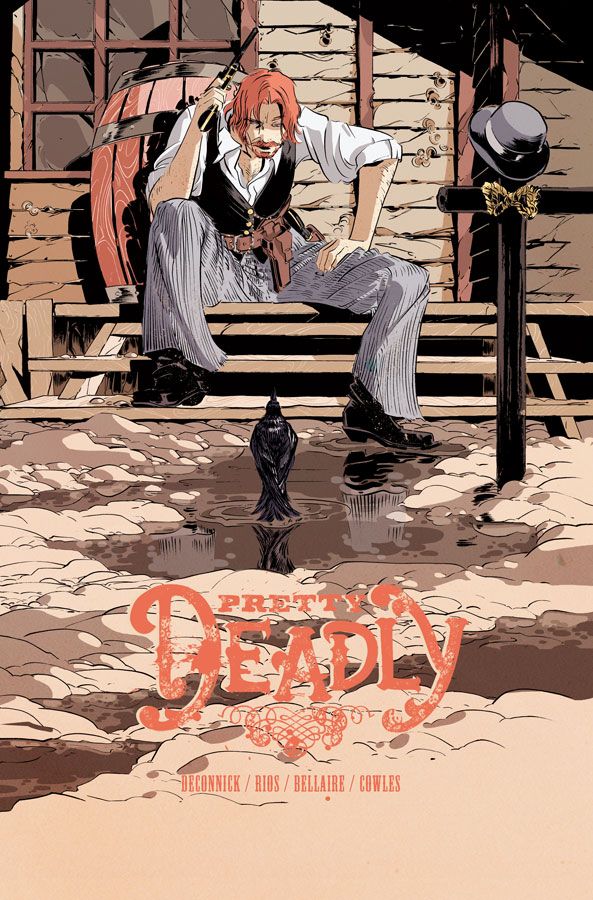 Written by Kelly Sue DeConnick
Art and cover by Emma Rios
Colours by Jordie Bellaire
Letters by Clayton Cowles
Published by Image
£2.20
After the catastrophic flood last issue, Sissy is aided by the man she stole the binder from. Elsewhere, Fox and Ginny have a meaningful exchange of blows, Death has a conversation and someone decides to come home.
Emma Rios' work is amazing, able to be fragile and burly all at once in a way that's completely unique. It gives the book both an ethereal feel and a sort of grubby finger nailed reality that wraps around and complements that unreality. Her character work is especially great, and she has a total understanding of how people move and what those movements say about them.
She also draws the best fight scenes in comics right now. The fight between Ginny and Fox is utterly brutal, equal parts graceful sword play and savage, ugly brawling. You wince at some of the blows landed, all described In Rios' sweeping, graceful lines and precisely delivered, thudding impacts. There isn't a single comic on the market that looks like this, and not a single one that uses violence this well or this unflinchingly. All of it, by the way, punctuated by Clayton Cowles' artfully placed lettering. Cowles, like everyone else here, is one of the best in the business, and he shows that on every page, his lettering leading your eye around the page without ever once tugging your eyes. It's subtle, clever work for a subtle, clever comic.
And, of course, at the centre of that is Kelly Sue DeConnick. DeConnick is one of the best writers of her generation and the grumpy, cautious, desperate connections these characters have for one another is absolute proof of her skill. These are people trapped by either their actions or the actions of powers they have no hope of controlling, constantly fighting small battles to hold their lives on course.  Where the script really soars is when DeConnick shows us the other side of the coin. The mission they're going on is not what they think it is, and the relationship between Death and Ginny's mother is far more complex than any of them know. There are no easy answers for anyone on that trail, just a rolling, fragile beachhead of normality and compassion in an increasingly dangerous world.
There is no book like this on the market. A western, a family tragedy, a character study and a horror story, it's a comic where every team member is turning in career best work. Hallucinatory, beautiful, horrifying and humane, this is the best book on the market right now. Extraordinary work, and essential reading.