Review: The Fade Out Issue 1
September 2, 2014, 11:00 am
Filed under:
Uncategorized
| Tags:
Charlie Parish
,
David Brothers
,
Dotty Quinn
,
Earl Rath
,
Ed Brubaker
,
Elizabeth Breitweiser
,
Gil Mason
,
Image
,
Phil Brodsky
,
Sean Phillips
,
The Fade Out
,
Valeria Sommers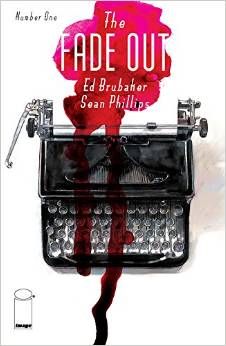 Written by Ed Brubaker
Art by Sean Phillips
Colours by Elizabeth Breitweiser
Edits by David Brothers
Published by Image
£2.50
ICharlie Parish has woken up in a bathtub. He's a screenwriter and a partygoer in 1948 Hollywoodland and he's fairly bad at both. As he stumb;es through the house, he slowly remembers not only the previous night but the bad things that happened. The arguments. The fight.
The murder.
Charlie has no memory of killing Valeria Sommers. That doesn't mean he didn't do it. In fact, in a town where fiction is foundation and lies are building blocks, it may not matter if he did. At least not to anyone but Charlie…
Brubaker and Philips are well on theirw ay to being the definitive creative team of their generation. Their work is as varied in scope as it is excellent in execution and here they step away from the historical supernatural world of previous book Fatale into something far more grounded and real. At least, it seems that way. This first issue features an interesting, possibly significant, discussion of the 'phantom' planes over LA during the war and a single image that's vintage horror to the core. Whether either become important later isn't important right now. With or without them this is a blistering opening issue that lays everything out for you and trusts you to pay attention.
At the centre of it all, Charlie is a resolutely flawed, almost unlikable figure. Timid and increasingly desperate, his dilemma is classic film noir; working out who to trust when he can't even trust himself. His supporting cast is equally interesting including; smooth and untrustworthy film star Earl Rath, Charlie's secret, blacklisted writing partner Gil Mason and Phil Brodsky the monolithic head of Studio Security. Then there's Valeria, poor, dead Valeria who looks set to be more of a major player in death than she ever was in life. However, the character that really connects in this first issue is Dotty Quinn. A PR girl at the studio, Dotty is the most grounded, and decent, person we meet this issue. Between her and Gil, Charlie has the makings of some allies and by the looks of this issue he's going to need them.
Brubaker's script glows with constant menace and Philips is with him every step of the way. There's some lovely, elegant narrative here but my favourite is a page that's classic film noir montage. A haunted Charlie stumbles towards the screen, smoking and drinking as classic movies scenes play out behind him. We see a swordfight, a gangster and a cowboy and that last appears in two panels. In the first he's riding towards Charlie. In the second his horse has reared and he's turned. It could be read as him being startled or as Charlie's inner, idealized self-refusing to let events slide even as he tries very hard to forget what's happened. It's an amazing, elegant page and shows just how good the creative team are. Breitweiser's colours in particular are impressive throughout but genuinely amazing here.
Rounded out by an essay by Devin Faraci on the tragic Hollywood history of Peg Entwistle, this is an amazing opening issue from a truly amazing group of creators. Endlessly confident, gripping and assured this is modern western comics at its best. Go buy it.