Review: Revolutionary War-Dark Angel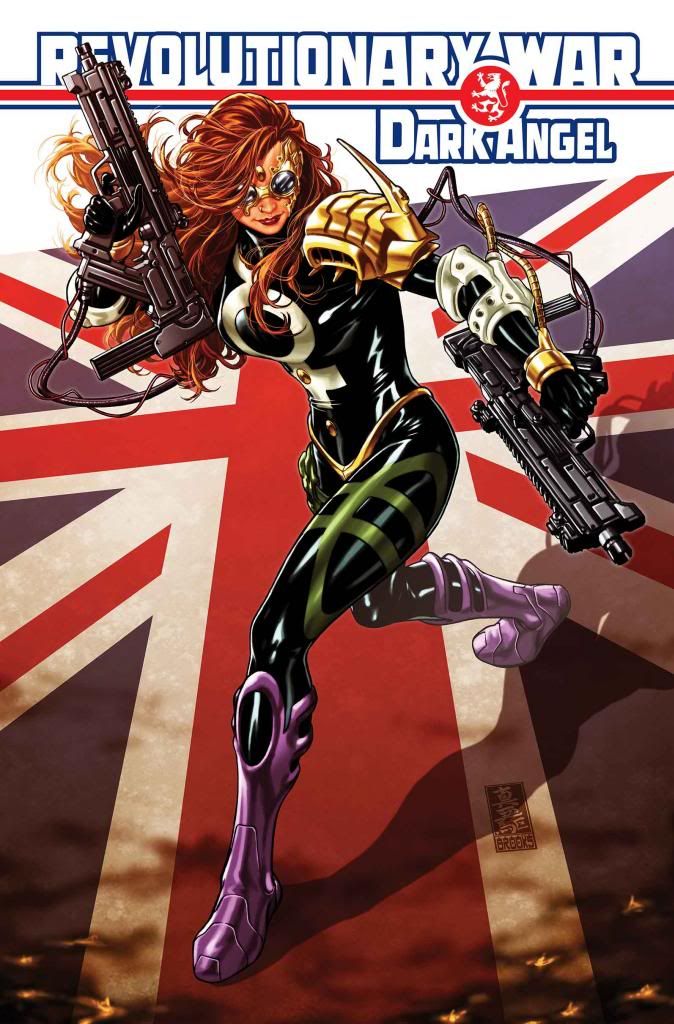 Written BY Kieron Gillen
Art by Dietrich Smith
Colour art by Ruth Redmond
Letters by VC's Clayton Cowles
Published by Marvel
£2.85
I have two reviews of this book for you. The first is this; it's great and completely British in a way very few comics manage to be, and you should buy it because that may encourage them to launch an ongoing series featuring Shevaun Haldane and her slightly rubbish psychic mate Doris investigating supernatural doings in the Marvel universe.
The longer version is this. The first reboot out of the stocks for Revolutionary War, Dark Angel follows Shevaun Haldane, the daughter of one of the founders of Mys-Tech. Shevaun gained Silver Surfer level powers as part of her father's deal and, for a while, was one of the most powerful superhumans on the planet.
But we live in an age of austerity, and even Hell needed to make cutbacks.
Now, her powers strictly budgeted, Shevaun is a combination errand woman, enforcer and nurse for Mephisto. She has just enough power to service her father's never ending debt, and lives a life that's equal parts Hell's Intern and endless TV boxed sets.
As this issue opens, she comes round after being knocked out at the end of Revolutionary War Alpha. There's a trail of destruction leading down the hill, a hole in the side of the manor where she lives and her friend Doris wants to know if there's anything she can do to help.
What follows is a two level story. On the surface it's a fast paced, breezy superheroine comic with a razor sharp visual wit. Smith's got a rock solid eye for character and his precise, tight style helps the fantastical elements of the book really pop. Plus the fact Mephisto has a pair of loafers next to his hospital bed is just all shades of brilliant. The story builds to a nice payoff that connects it to what we saw initially, advances the plot for the series and clearly starts the reboot process too. It's deftly written, action and character heavy and fun as hell. Literally.
Underneath that, though, is something really quite extraordinary. Gillen's been cheerfully up front about this being him channelling his inner Pat Mills, and that's certainly true. This is a very British comic, everything from the countryside to the names, and it gives the whole thing a welcome change of tone.
It also hides the fact that Marvel have, in Dark Angel, the logical replacement to Hellblazer.
Seriously.
The entire set up here; Shevaun and Doris fighting occult crime, is one step away from Hellblazer. Shevaun's far more willing to throw an energy blast than a quip but the character dynamic between her and Doris is vintage Hellblazer. She's an occult specialist with years of experience, most of it bad and a burning need to do more. Her mate's a local medium who knows everyone, does the people stuff and is extremely handy in a fight when called upon to be. Seriously, all it needs is for Doris to drive a cab in her spare time and it's there.
Joking aside, this is a really important thematic decision, and it's one that Gillen really drives home. The austerity measures put in place by the British government are mirrored in Hell whilst the A&E that Shevaun takes Doris to at one point is in the process of being shut down. This isn't a comic mindlessly aping or reflecting its surroundings, this is a comic actively using the events of the time to make itself better. That's not just clever writing, that's brilliant, satirical, necessary writing of a sort we've not seen since Hellbla That's not just clever writing, that's brilliant, satirical, necessary writing of a sort we've not seen since Hellblazer closed its doors.
It's not just the script showing this level of wit either. Smith constantly uses Shevaun's magnificently '90s hair (shaved down one side) to emphasize the duality of her character whilst Redmond uses texture and shape as well as shading to give Shevaun's powers, and the Hellish locations, a wonderfully granular sense of weight. Cowles' lettering rounds the whole thing off effortlessly, especially with the way Mephisto is presented and the whole book feels confident, smart and tightly planned.
I've always loved these characters but Revolutionary War really is off to a flying start here. The creative team not only honour the past but set things up for what looks like a very exciting future that does something no other active Marvel title comes close to. That doesn't just make this a fun book, it makes it an essential on and hopefully the start of something much, much bigger.