Review: Three Issue 1
December 1, 2013, 9:00 am
Filed under:
Exquisite Reviews
| Tags:
364 BC
,
Clayton Cowles
,
Damar
,
Helot
,
Jordie Bellaire
,
kieron gillen
,
Klaros
,
Professor Stephen Hodgkinson
,
Sparta
,
Spartan
,
Terpander
Written by Kieron Gillen
Art by Ryan Kelly
Colours by Jordie Bellaire
Lettering by Clayton Cowles
Historical Consultation by Professor Stephen Hodgkinson
Published by Image
Helots were the lowest of the low in Sparta, state owned people who could, and were, used as hunting practice by the sons of the Spartans. Their lives were worthless except to define the Spartans' 'heroism', culling them once a year like animals.
In 364 BC, three Helots fought back.
Gillen's script is as pared back as they come, introducing the violence of the Spartans first, then Klaros, Damar and Terpander, his leads. Klaros is competent, sullen and crippled. Damar is calm, intelligent and overlooked. Terpander talks for a living and as a result has no idea when to shut up. All three are cowed, all three Helots and all three are about to have their lives changed forever.
The Spartans are monsters here, eyes and cloaks and huge helmets. Their violence is so total as to be almost abstract at first and the terror their arrival brings the Helots is portrayed with feverish details by Kelly. They're men who kill the same way some people breathe, arrogance seasoning their brutality. That clash, between Spartans who have everything and Helots who have nothing, is what drives the story and leads to the inciting incident at the end of this issue. The character dynamics between the three Helots are front and centre here and by the end of the issue you realize their relationship is a lot more complex than previously thought. You also realize, as they do, that relationship will almost certainly get them killed.
This is muscular, almost minimalist storytelling. Gillen, one of the best dialogue writers in the business, scales it right back and lets the Spartans' violence speak for him. It works, and the casual brutality the book is littered with shows you what's at stake without it having to be spelt out. Right now the characters are taking a back seat but, as the story continues, the focus will shift to the troubled relationship between the leads. For now though, this is a book about monsters who wear Spartan helmets and every page is filled with tension and threat. Kelly's art is reminiscent of Darick Robertson in its detail and willingness to show the ugliness of people whilst Bellaire's rich, deep colours set the stage and then throw arterial spray over a lot of it. Together with Cowles' always impressive lettering and Hodgkinson's historical backup, they create a book that's red in tooth and claw and looks set to carve its name on every Spartan monument in fiction. Nasty, uncomfortable and violent, just like history and, based on this first issue, just as gripping.
Iron Man Issue 1
&nbsp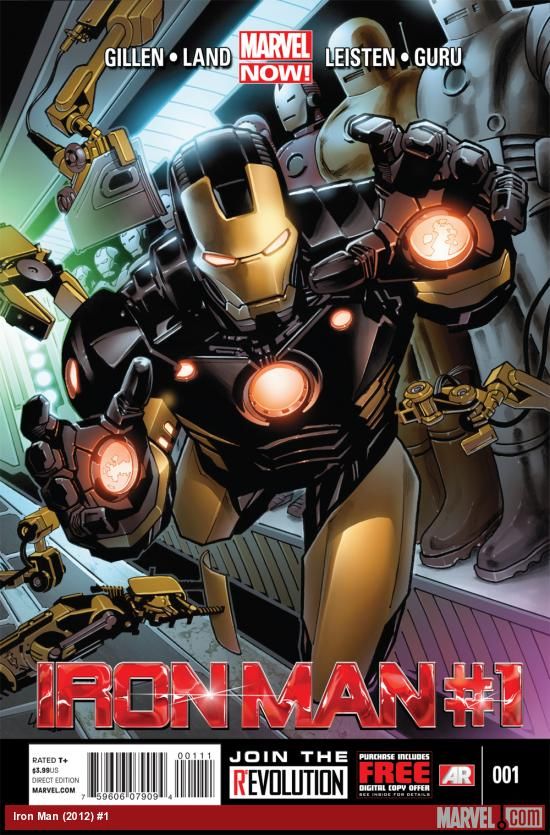 ;
Iron Man
Issue 1
'Believe Part 1: Demons and Genies'
Written by Kieron Gillen
Pencilled by Greg Land
Inked by Jay Leisten
Colors by Guru Efx
Lettered by VC's Joe Caramagna
£2.85
Published by Marvel
This is a very odd book to review and it would be really easy for me to get all clever and journalisty over why. By the way the fact that I use words like journalisty, and by use I mean invent as well as use, sort of proves why I shouldn't try and be journalisty. There I said it again. Journalisty. Journalisty. The word has lost all meaning, if indeed it ever had any.
The reason why the book's hard to review is simple; there are almost two different comics happening here, one by Kieron Gillen and one by Greg Land. To begin with the Gillen scripted story, this is not only a soft reboot for Tony but also a welcome and logical harkback to the past. We not only meet Tony as a charming playboy but soon discover that he and Maya Hansen, from the Warren Ellis-scripted Extremis storyline (Which also begat sizable portions of Iron Man 3 remember) have failsafes in place to stop their pieces of the 'future' leaking out into the world. Maya's is activated, meaning she's probably dead; there are Extremis enhanciles in the wild, a concept which itself riffs on Matt Fraction's Invincible Iron Man story 'The Five Nightmares'. Gillen has a fine ear for snark and his Tony Stark is charming, erratic and at the same time completely focused when needed and acutely self-aware. If, as the rumours are true, he'll be spending some time with the Guardians of the Galaxy, then the foundation for that is certainly laid here. This is Tony at his calmest and, weirdly, his most introspective. Which, for a story which sees him go into an AIM auction in disguise simply by shaving his moustache off, is quite an achievement.
Gillen's script is peppered with mischievous touches like that and just enough tech to make the gearheads happy. Tony's 3D printing testbed modular suit is particularly fun, and promises some interesting action beats in future issues as he upgrades based on what he needs. From top to bottom, this is a tight, funny, ideas heavy script that manages to be a sensible issue one at the same time as recalling the past. That's no mean feat.
Then there's the art by Greg Land. Show me a comic artist who doesn't have a rabid, holy war-inducing set of haters following them around and I'll gently point out they're Josh Hoopes' latest cover identity, but Greg Land has more than most. The reason is simple, Land's style either is, or does a very good impression of being, heavily light boxed. Characters often look posed and flat, and female characters often do that 'hand in big hair, laughing, hip thrust out to the side' thing that I have never ever seen a real alive woman do.
Ever.
His work's never less than pretty but it's not exactly fluid and a lot of people can't stand that. For what it's worth, I'm not fond, but I've read and enjoyed a lot of books Land's illustrated.
Land's work here is…very Greg Land. Tony's black and gold duds look very nice and Land, along with Guru EFx give a real sense of scale and beauty to the flying scenes. However, the early scenes where Tony's out of the suit look stilted and flat and the chilling introduction of the new Extremis enhanciles is heralded…by a woman on a phone, hip out, smiling at the camera, hair blowing in the breeze in the foreground.  There's no depth, no motion at times and whilst the art's never less than pretty the art's also, at times, not much more than pretty.
That being said, the final scene really unites the two books. Tony's visit to an AIM weapons auction has hints of later-run seasons of Dexter to it; all nice suits and life affirming conversations about homicide and the art's really good too, Land getting a real sense of depth and motion at times. It's still a little stilted, but the two styles definitely start to roll together by the end of the book.
Iron Man Issue 1 is one of the flagships of Marvel Now and it's easy to see why. Gillen is on top form here, combining humour, intellect and action and Land's work, controversial as it is, definitely has the scope needed for Tony's high tech, high danger world. With the stunning colour work by Guru EFx added in, this may be a team who are stylistically different, but they're all flying in formation. A very promising new start.
Alasdair Stuart
THE GLASS IS HALF FULL: GENERATION HOPE #10
My name is Al Ewing, I write comics and I was recently asked to write some reviews for the Travelling Man site. Hello.
For various obvious reasons, every single one of these reviews is going to be positive.
And that's fine, because 1) we're in a new age of exciting criticism and loads of great people are being really critical elsewhere, in a good way, giving comics the kind of intelligent working-over it probably needs, or deserves, or deserves to need, or something. Keeping people like me on our toes, basically. So it's not like the negative aspects of comics, or the comics industry, aren't being covered.
And 2) many, many comics are very, very good. Certainly enough for me to cover one every week.
The glass of comics is half full.
Let's start – briefly and shamelessly – with my first love, 2000AD, which is fresh off the newsagent or comic shop shelf every week. 2000AD can also be found in digital form on the 2000AD website, which can be found by typing 2000AD into any competent browser, so there's really no excuse not to at least try it, or re-try it, especially if you're a comics fan from the UK. It's very good at the moment, and has been for a very long time, but I'll talk properly about that when I'm not in it, otherwise it's like I'm taking advantage.
2000AD is so ubiquitous a brand when it comes to UK talent that it's almost easier to list British writers who didn't get their start working for them than the ones who did, which allows me to segue nicely onto Kieron Gillen, who has three books out this week. They're all very good. Generation Hope #10 – art by Tim Seeley – is probably my favourite of the three. It's an integral part of a big X-crossover involving Cyclops and Wolverine finally thrashing out their differences – emphasis on the thrashing – completely naked and hairy in an inflatable paddling pool filled with Durex Play. It's called Jism.
No, wait, that's the slashfic version. It's actually about Cyclops and Wolverine having an extremely clothed disagreement in a completely appropriate setting, and it's called Schism, and I'm enjoying it quite a lot.
The point is that the crossover can be read perfectly well without reading this issue, and this issue makes perfect sense without the crossover. And if you've read the crossover – including a big climactic event which this issue revolves around and which probably prompts the coming ruckus between Slim and Jim – it doesn't spoil this issue one bit.
Which is how it should be done.
Last month, this comic used mutants as an analogue to a real-world issue; gay teen suicide. (Among other things, it actively referenced the It Gets Better Project – and please check out that link – started by columnist Dan Savage. I'm also a fan of his weekly podcast and I'd heartily recommend it to anyone, particularly anyone struggling with their sexuality, their kinks, or both. You're not alone, there's nothing wrong with you and it does, indeed, get better.)
This month, we're back with more fictional issues, i.e. the treatment of mutants. Except last month was about the treatment of mutants as well, on a surface level, so now I'm seeing analogues everywhere. The bit where Idie, early on, argues in favour of governments having the right to deploy Sentinels against dangerous mutants, without having a full understanding what Sentinels are capable of, reminded me of some of the talk lately about water cannon. (Of course, this issue was likely written months ago. And yet, there it is.)
And – again – that's how it should be. Comics should reflect the world, or at least something other than themselves, and this – more than any other x-book, more than any other Marvel book – feels like it needs to do that, to live. It's diverse, it's young, it's fresh, it's clever. It talks the best talk, it walks the best walk. It's worth your money and your time. Most of all, it's worth your support.
Buy it.
Next week, I'm in France and away from my standing order, so I might take the opportunity to talk about Largo Winch, eighties chic and sexy Europeans. We shall see.